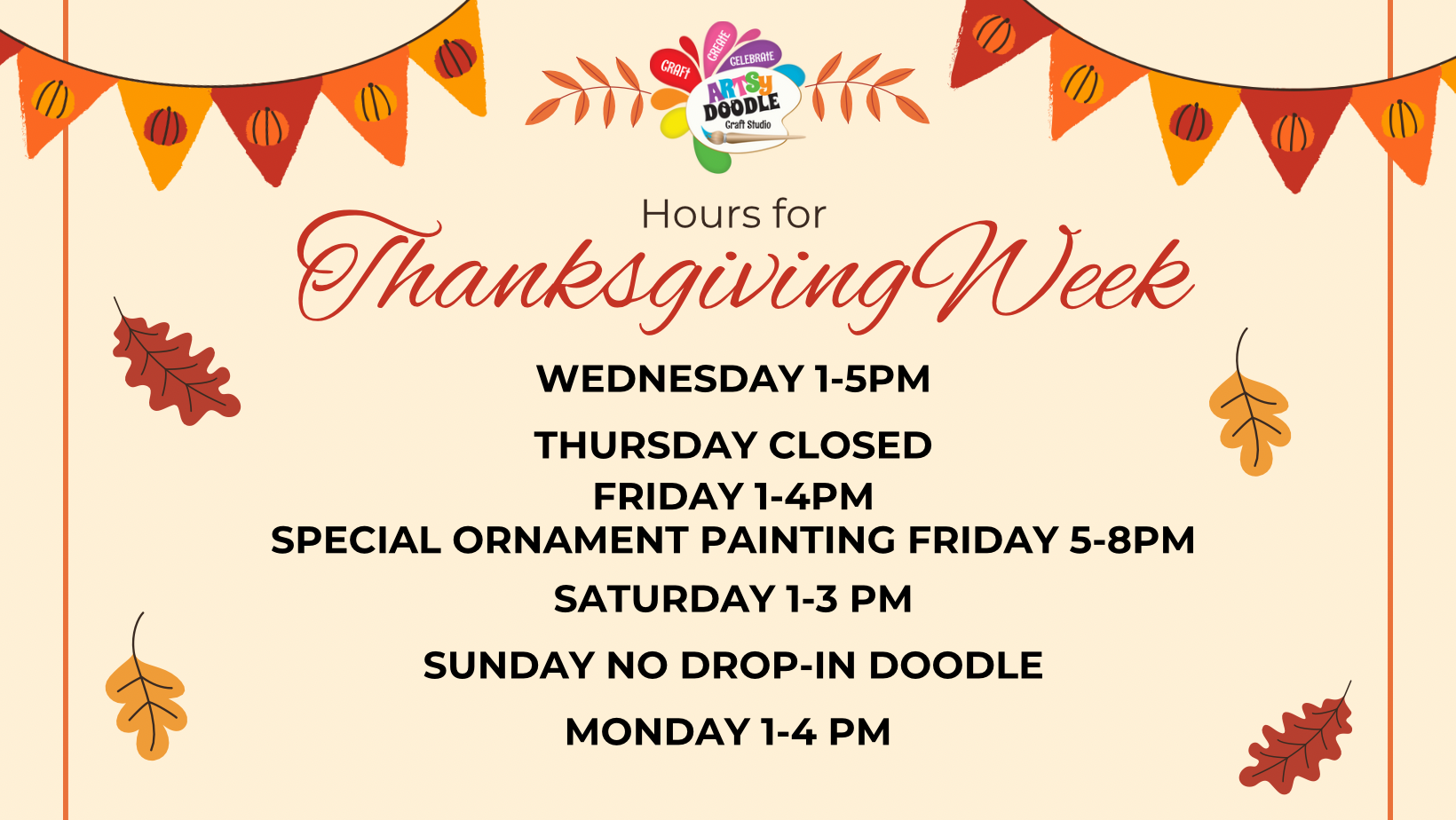 Happy Doodle Day, friends!  It's the perfect time to get together with friends & family and create memories that will last a lifetime!  We have a variety of craft activities to pick from such as canvas paintings, paint your own pottery, burlap door hangers and distressed wood signs, porch signs & more! Fun for all ages!  Most prices for crafts range from $15-$35, but there are some that are lower and some higher.
Subscribe to our email list here
Our regular Drop-In Doodle Hours: Tuesdays 1-4:30 pm and Wednesday thru Friday 1-5 pm. If you have pottery to pick-up and need evening or weekend hours, just give us a call. We will be happy to accommodate you outside of the 1-5 pick-up times. Want to schedule a night or weekend for drop-in doodle time? It only takes 6 people to have a reservation for evenings or weekends. Email us at [email protected].
Paint & Sips, Kids Classes & Other Events: See our up to date events calendar at https://artsydoodlecraftstudio.square.site

What is a Create Crate?  It's a take home kit that has all the supplies you need to create a beautiful craft project. You pick them up curbside at Artsy Doodle. For ceramic projects you bring them back to be kiln fired once you paint it.  Place your order at https://artsydoodlecraftstudio.square.site
These create crates are individually packed so they are perfect for one Doodler, 2 Doodlers or more.  You purchase as many kits as you need and we will pack everything up for you with all the supplies to make hosting your sleepover or birthday party event super easy.  These are great family fun projects or to give the kids something to do on a rainy day or at Grandma's house. They travel well to take on vacation with you too. Ideas on how to have some extra fun with Create Crates:
Host your own Craft Night with friends – when you and your friends order your create crates
Great activities for baby shower or bachelorette party or wedding shower
Having a sleepover?  This is a great structured activity to keep the kids entertained
Perfect activity for a small birthday party at home
When doing curbside pick-up, just pull up out front, give us a call and we will bring your To-Go Kit to the car.  OUR NUMBER IS 724-371-0174.
Contact Us: